Do Experta sa v jeho histórii zapojilo už viac ako 120 000 žiakov. Jedným z najúspešnejších súťažiacich bol Filip Letovanec, s ktorým sme pri príležitosti 15. narodenín Experta urobili krátky rozhovor. Riešil témy: Spoločnosť kedysi a dnes, Dejiny, udalosti, umenie a Svetobežník a získal krásne umiestnenia:
2016/17, Spoločnosť kedysi a dnes 24. miesto, Svetobežník 1. miesto, TOP Expert 17. miesto
2017/18, Dejiny, udalosti, umenie 3. miesto, Svetobežník 1. miesto, TOP Expert 2. miesto
Čím Ťa zaujala súťaž Expert geniality show?
O súťažiach od Talentídy som vedel predtým, ako som sa zapojil do Experta. Už na základnej škole som súťažil v Matematickom klokanovi, a pokračoval som v tom aj v prváku a druháku na strednej škole. Ale keďže ma matematika nikdy moc nebavila, v Matematickom klokanovi som nepokračoval a namiesto toho som skúsil Experta v iných témach.
V ktorých ročníkoch a na akej škole si sa zapojil do súťaže Expert geniality show?
Myslím, že to bolo v druhom a treťom ročníku. Navštevoval som Súkromnú strednú odbornú školu, Tatranskú akadémiu v Poprade. Naša škola sa do Experta zapájala každý rok, tak som to využil.
V akých témach si súťažil?
Oba ročníky som súťažil v téme Svetobežník, vybral som si aj tému Spoločnosť kedysi a dnes, alebo Dejiny, udalosti, umenie.
Na základe čoho si si vyberal dané súťažné témy?
Základná škola mi dala dobrý základ v geografii. Náš učiteľ geografie sa fakt snažil, aby sme poznali svet ako taký a jeho históriu. Taktiež mám rád cestovanie, čiže som si to viac-menej spojil dokopy a rozhodol sa pre práve tieto dve témy.
Spomenieš si, ako si sa umiestnil, alebo čo si vyhral (aké ceny)?
Doteraz mám všetky diplomy, čiže viem presne povedať, ako som skončil. Keď som prvýkrát skúsil Experta, v geografii som skončil ako prvý na Slovensku, a celkovo som bol 17-ty. V druhom ročníku presné miesta neviem, ale skončil som v prvej štvrtine. Ceny si už bohužiaľ nepamätám, súťažil som pred piatimi rokmi, už je to nejaký čas.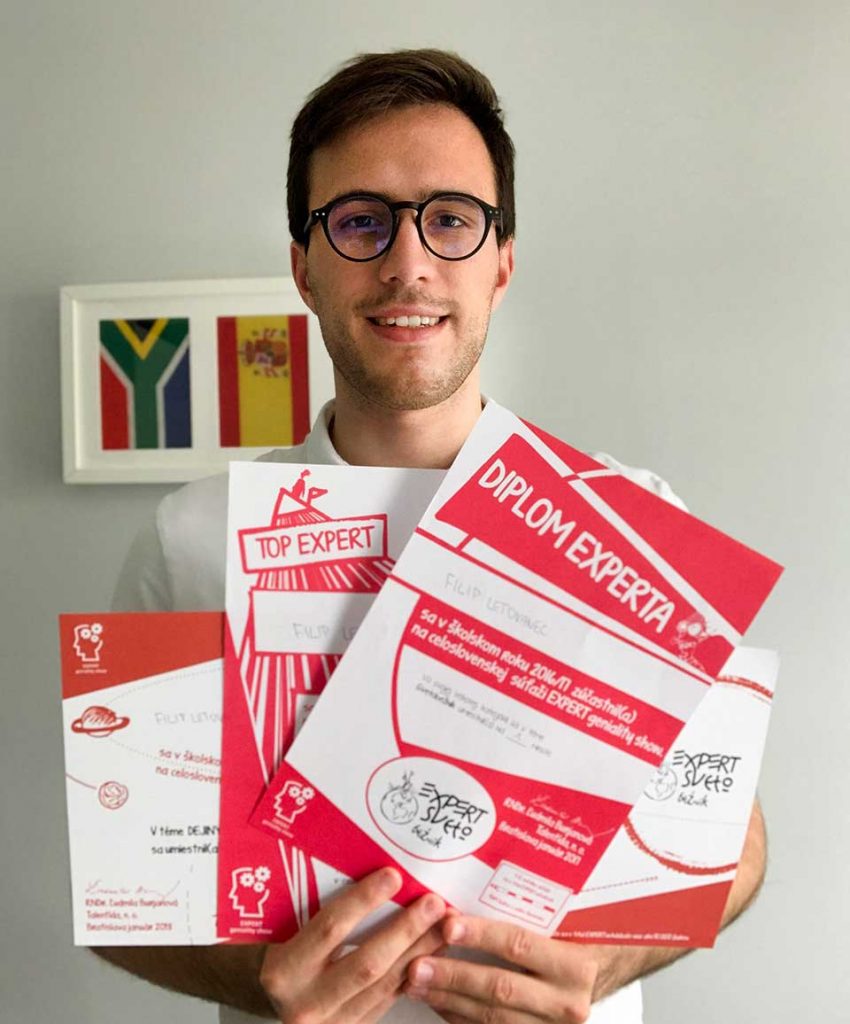 Ak porovnáš písomky a testy v škole, (prípadne iné súťaže, v ktorých si súťažil), v čom je podľa Teba Expert iný (lepší/horší)?
Ten test si už moc nepamätám, čiže na túto otázku neviem odpovedať.
Aký má podľa Teba súťaž prínos pre žiakov?
Myslím si, že je super otestovať si všeobecné vedomosti a celkovú gramotnosť. V samotnom teste boli fakty, ktoré ma dosť prekvapili, ale vo väčšej miere išlo o všeobecnú znalosť, niečo, čo by som nemal moc šancu otestovať pri odbornom zameraní mojej školy. A v neposlednom rade, súťažiť v Expertovi bola celkom sranda.
Pomohla Ti súťaž v ďalšom štúdiu?
Študoval som informačné a digitálne technológie, čiže niečo trochu iné ako témy, v ktorých som súťažil v Expertovi. Ale v každom prípade je fajn vidieť, že dokážem dosiahnuť výsledky aj iných oblastiach.
Kde momentálne študuješ?
Momentálne študujem BSc Business Management na King's College London. Témy, ktoré som si v Expertovi vybral, sa biznisu určite dotýkajú. Veľmi veľa manažérskych rozhodnutí v biznise vyplýva práve z ekonomickej, alebo politickej situácie vo svete. Vplyv majú aj dejiny. Moja škola si zakladá na historickom rozvoji sociálnych vied a ich vplyve na súčasnosť.